Need flexible support for your recruiting processes? hunter software to the rescue!
Want to find out more about fecher's innovative hunter software? On this web page, you'll learn how the software solution provides key recruiting process support to personnel consultants and corporate recruiters. Our flexible headhunter software can easily be optimally customized to your individual requirements and workflows in the recruiting sector. Take advantage of our 30-day free trial now and test hunter to see for yourself what it can do to streamline your work processes!
Use our reliable headhunter software for your candidate search
hunter recruitment software base features already equip you, as a personnel specialist, with extensive options that let you target and find suitable candidates and appropriate target companies. So that you can focus on your main task at hand, we've kept the remaining administrative burden within hunter as low as possible. For example, this includes:
Client and candidate management
Project management
Email communikation
Document management
Data import
The basic package of the hunter software already offers everything what is needed for professional recruiting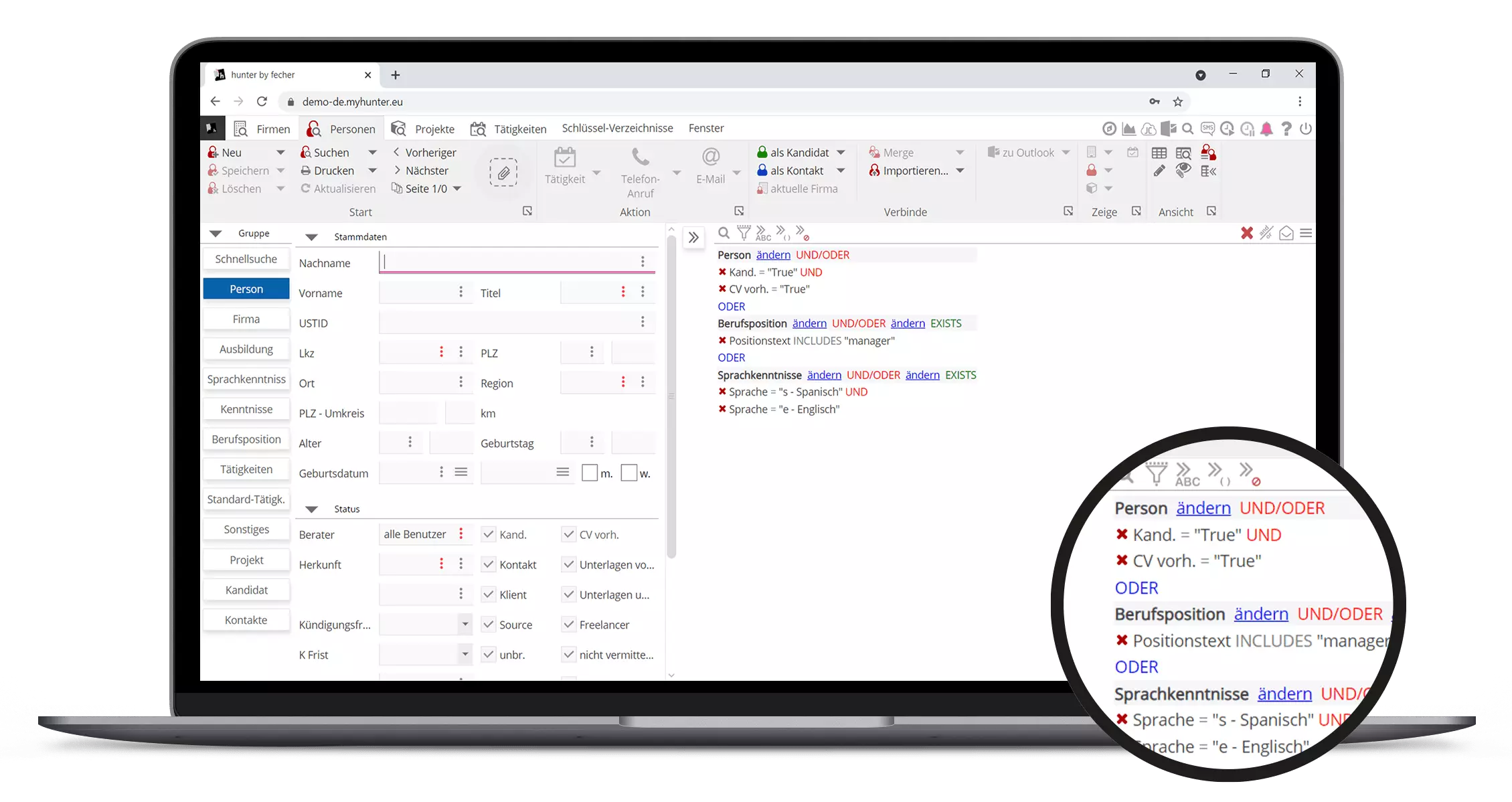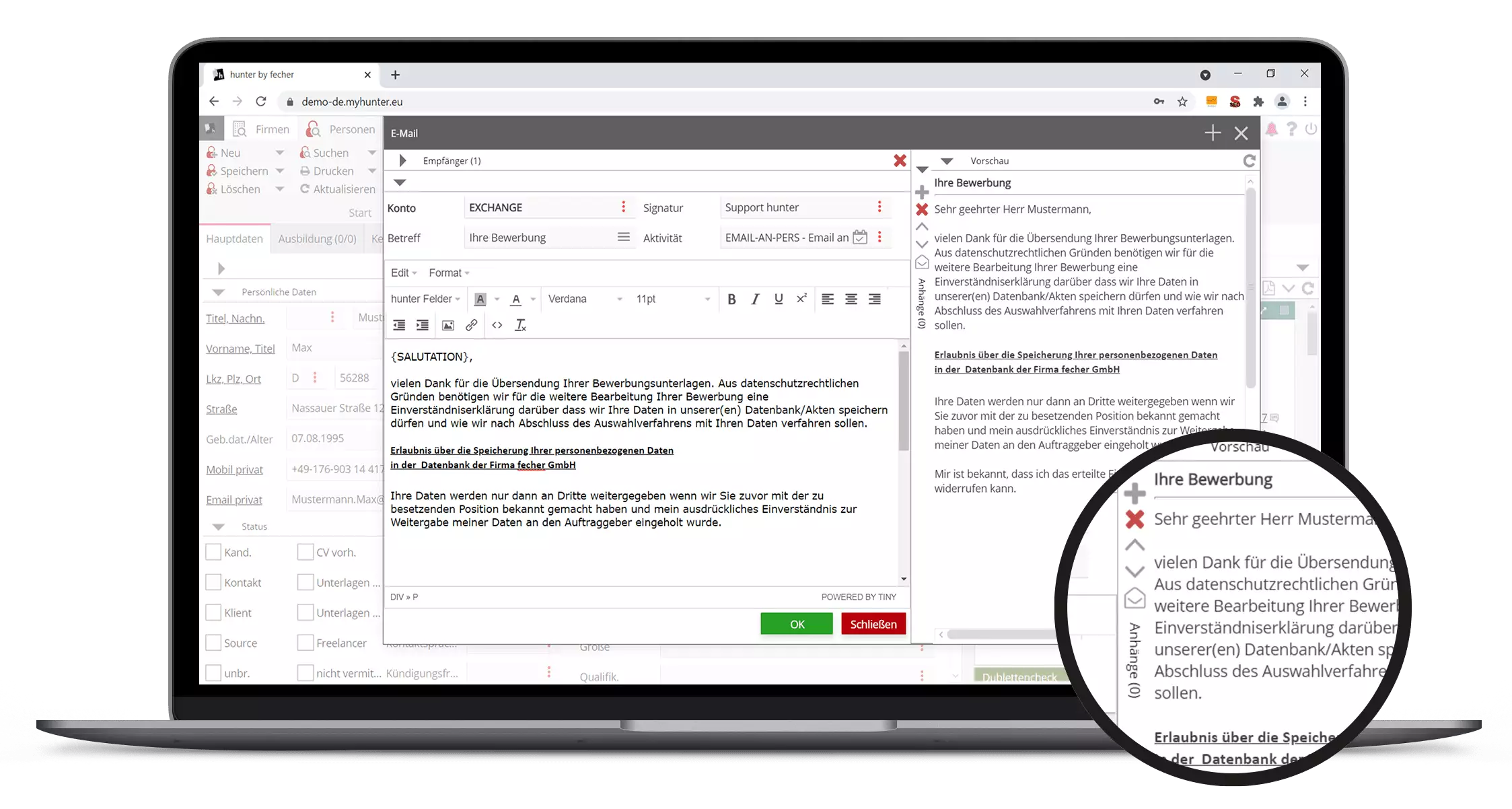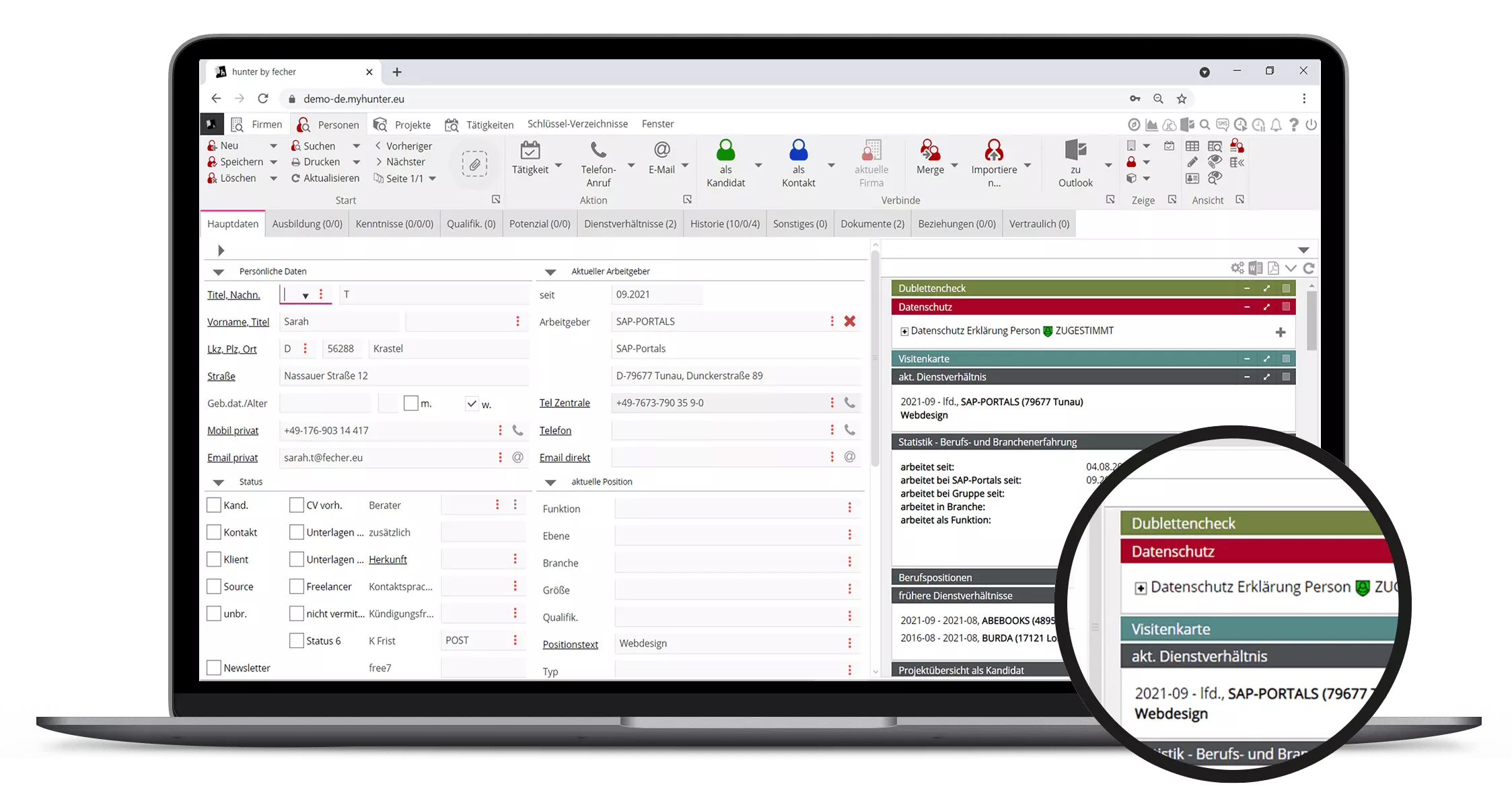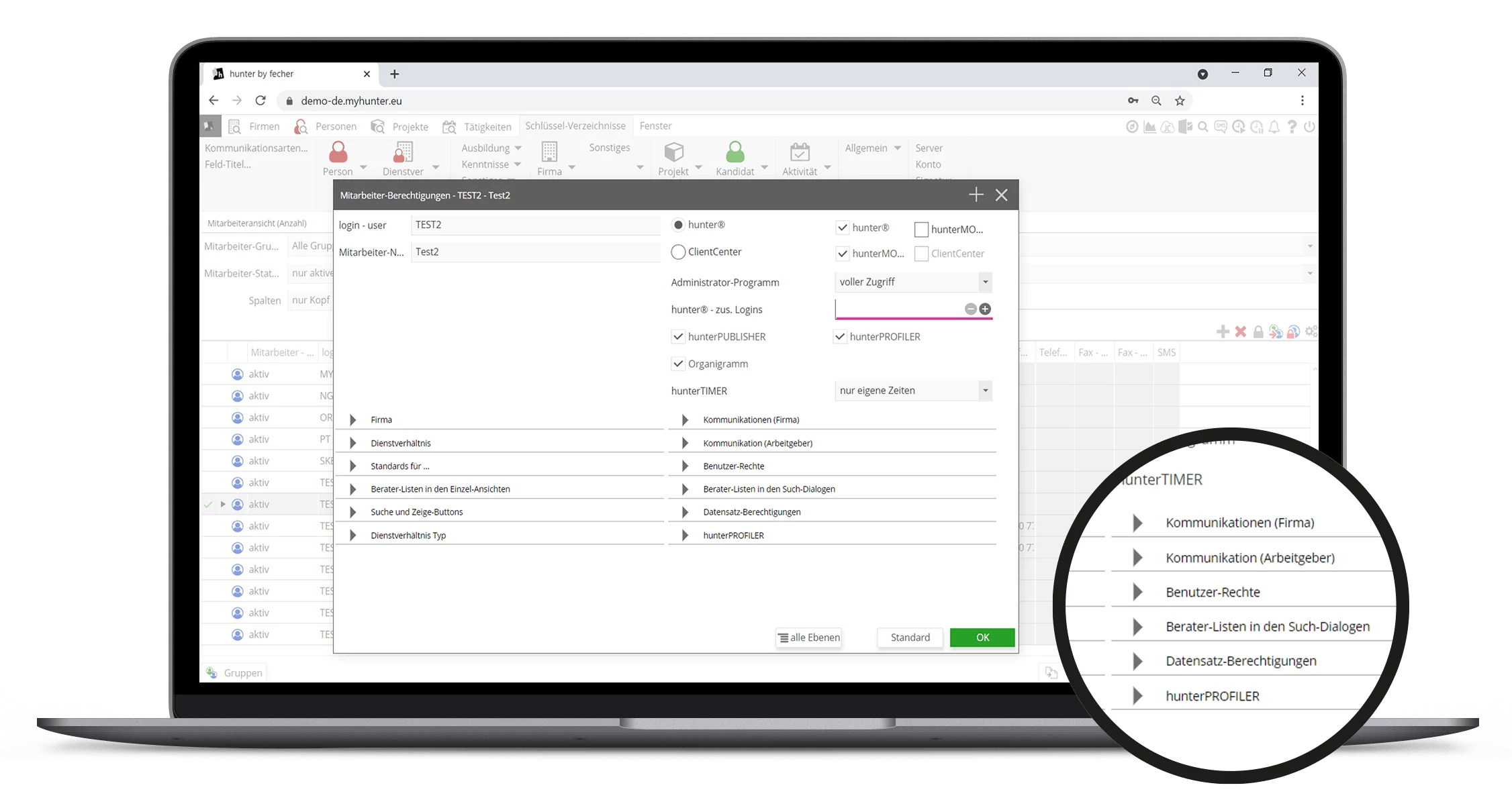 Candidate and company searches
hunter's simple search function outputs results, for example, by industry, region, skills or position. Traffic-light (red, yellow, green) presentation clearly identifies for you whether the person or company is already involved in a process or if available for a new project. By using the integrated full-text search function, you can also search through saved data, documents, and emails. The text contained in images and scanned documents is recognized, converted to text, and thus made easily searchable by using OCR (optical character recognition).
Project management
hunter's clearly structured project view shows you the current status of a candidate or the current phase of an assignment. Project-time tracking is also easy with hunter and evaluation reports can be generated at any time. hunter's professional project management functions also let you define milestones, pre-screen suitable applicants, and prepare project plans, meaningful evaluations, reports and statistics.
Mailings and documentation
Archive and organize all correspondence with candidates and clients ensuring this information will be available at a later date, even across team boundaries. As with any good CRM system, this data can be called up at any time. Instead of using Microsoft Outlook, hunter's integrated mail client may optionally be used. hunter also lets you create documents, form letters and labels, ensuring quick processing and uniform workflows for your candidate and client correspondence and the documentation process.
Automated data import
With the help of several hunter functions, you can avoid time-consuming manual work steps. The hunter software transfers information to its own database in an automated, data protection requirement complying process. With a click, data can be added from email signatures and website legal notices for company addresses. By using the optional hunterCV-EXTRACTOR module, business platform information can also be added. Interfaces with corporate databases from third-party vendors can also be implemented in hunter.
Fully adaptable and customizable
Together with the fecher team, you will use a variety of functions to compile customized software that optimally supports your business processes. You can even customize the recruiting solution during day-to-day operations: Assign user rights and use them in teamwork on practical CRM/TRM functions. As needed, you can also configure user interfaces / dashboards and manage documents and email templates.
IT-landscape Integration
Our recruiting solution is integrated with your existing IT landscape: By using the hunter web solution, you'll only need a web browser and internet access, regardless of the device or operating system used. hunter can be fully operated from the cloud, from within a private cloud or on your own server. Interfaces with Microsoft Office applications such as Outlook, Word and Excel let you easily manage workflows from within the hunter software.
Optional functions add even more flexibility
The optional hunter modules let you create a working environment that is perfectly tailored to your processes. Discover hunter's additional strengths!
By the way... Operating hunter is intuitive as the menu bar has a somewhat similar look to the well-known Microsoft programs.
Data transfer makes it easy for you to switch from another system
Are you thinking of changing from your current system to the hunter software? Upon request, your existing data can be transferred to hunter. Our goal here is a transfer rate of 100%, which means that you will be able to seamlessly continue working in hunter once the introductory phase is complete. Using our proven approach for this migration type, we have successfully and quickly conducted hundreds of data transfers from a wide variety of digital sources over the past two decades. It does not matter whether the data is on a competitor's system, consists of simple excel spreadsheets, emails with résumés in a mailbox, file server or SharePoint structures or even an old dBase database – we will extract everything from your digital sources down to the last byte. While we are at it, we can also consolidate and clean your data.
fecher — your partner for leading-edge recruitment
Our company, fecher has been supporting clients for more than three decades with application modernization and application development. The hunter software has been a part of our comprehensive offerings for more than 20 years. We work continuously to refine and expand the software so that all work processes for recruiters, HR corporate managers and personnel consultants are covered. Contact us now: During our personal consultation session, we will find out together which hunter package suits you the best. If you like, we'll gladly walk you through the software in a no-obligation live demo. You also have the option of a 30-day free trial during which you can test hunter yourself.
Test the software now!
Want to experience hunter in a live demo and try it out? We'll introduce you to hunter in an online demo and give you a 30-day free trial to try the software with no obligation.